Attorney & Staff Profiles
---
Attorney Profile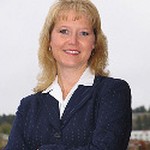 Connie Powell:
Connie Powell graduated Magna Cum Laude from Gonzaga Law in 2003. She obtained her Bachelors degree from Gonzaga University where she graduated with honors. Prior to law school, Ms. Powell was a paralegal for more than 17 years. In this capacity, she dealt with numerous family law, criminal and personal injury matters.
Ms. Powell began her legal career as an associate at Eymann, Allison, Fennessey, Hunter & Jones. During this tenure, Ms. Powell was attorney of record in the Hanford Nuclear Reservation Litigation and was instrumental in obtaining favorable decisions on issues such as strict liability. In addition to working with world renown experts in the toxic tort field, Ms. Powell also deposed defendant experts across the country. Additionally, Ms. Powell argued to limit expert testimony under the Daubert.
After completing the Hanford Nuclear Reservation trial in June of 2005, Ms. Powell started her own firm. Ms. Powell's private practice consists of family law, dependency, personal injury and criminal defense. Ms. Powell has acted as guardian ad litem under RCW Title 26 dealing with family law issues and representing the child's best interest. Additionally, she has a strong focus in defending parents in child protective services and currently holds a contract with the Office of Public Defense.
Ms. Powell's office is located at 1316 W. Dean Ave. Spokane,Washington 99201, approximately two blocks West of the Spokane County Superior Court.
Ms. Powell can be reached directly by phone at (509)325-4828 or contacted by email at cpowell@powelllawoffices.net.
Office hours are 8:30 a.m. to 5:00 p.m.
---
Paralegal Details
Our paralegals are dedicated to customer service and working closely with our clients.
Carol Daniel: Ms Daniel graduated from Lewis Clark State College in 2007 with her BAS in paralegal studies. She also has 2 AAS degrees (paralegal studies and legal assistant). Ms. Daniel has a well rounded focus including personal injury, family law and criminal law. Ms. Daniel can be reached at (509) 325-4828 or plegal@powelllawoffices.net.
Office hours are 8:30 a.m. to 5:00 p.m.